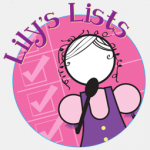 Hooray! The first of Lily's lists has arrived.
Lily's lists have been designed to give you ready made lists for all life areas.  They can be used on their own … or integrated into a home management binder or personal organiser system alongside our complete sets.
Today's list … Newborn Needs … gives you the list of things you may need in preparation for a newborn arrival.  You have space to add the quantity you require of each.
Simply cross through any items that aren't relevant to you and your baby, and add any additional items in the space provided.
Your printable list is made available as a download which is immediately accessible once you complete the payment process, so you can be quantifying and ticking away within minutes!
Head on over to the main Lily's Lists page to download this week's list.