Wooohooo! It's here! I know so many of you have been waiting for this moment and now FINALLY the wait is over!
Whether you are looking for…
A shift in direction
More energy & motivation
A change in career
A new love in your life
Better control of your finances
A refined body
Improved health & fitness
New experiences in your life
THIS PROGRAMME CAN HELP YOU ACHIEVE THEM ALL!
We are fast approaching the close of 2012.  What goals and intentions did you start out with this year? Have you achieved them? Have you made solid progress toward them?  Take a moment now to visualise those goals and how great it will feel to be there … living the accomplishment of them!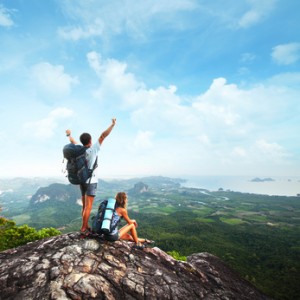 Do you have your goals written down?  It's a known fact among life change professionals that simply writing your goals down puts you in the top 3% of the population in terms of how close you become to achieving success.  How much closer would you be then if you not only wrote your goals down, but had them infront of you daily as you plan your day-to-day activities.  How much difference could you make to your life by eliminating bad habits and replacing them with habits that support the lifestyle you are striving for?
Do you struggle to keep all aspects of your life in balance? Do you worry or feel guilt that areas of your life might not be getting the attention you want to give them? How great would it be to be able to make plans that remove that worry and guilt?!
Better yet … what if you had a simple little tool that you could use daily to bring all of these elements together so that you can
Create your long term vision
Brainstorm your "wish list"
List out and plan to develop life changing habits
Set clear goals
Take action EVERY day to move your forward
Reflect regularly
Celebrate your successes
That's exactly what we are bringing to you now, in the form of the FizzyMilkJelly Life Energiser Workbook and supporting programmes.
The 90 Day Life Energiser Workbook was our very first product, launched back in 2009.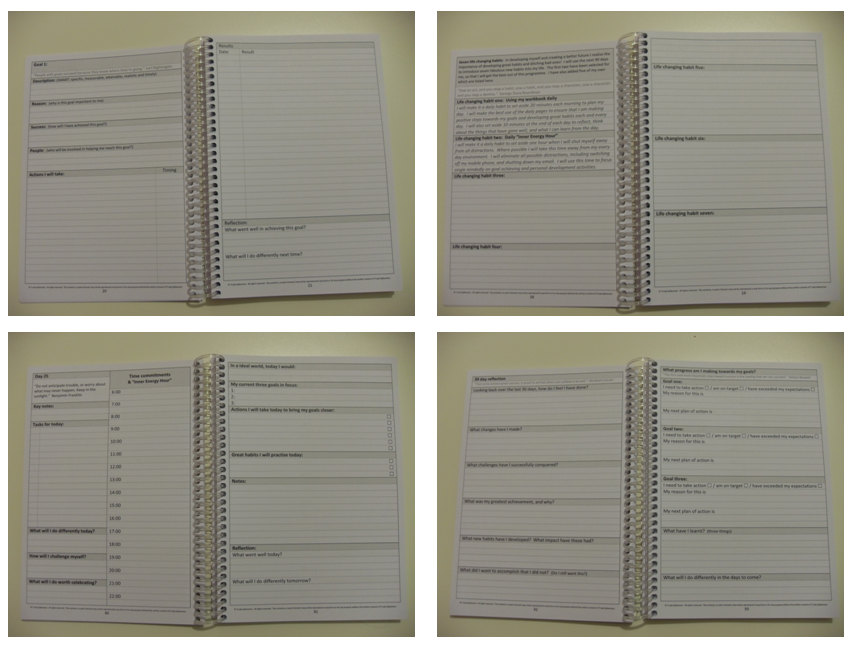 It has been used by 100′s of people to plan and manage their daily life without allowing their goals to be pushed to the back of their minds (or cupboards, or drawers!).
More recently we have been selling the loose leaf folder version of this workbook in the FizzyMilkJelly online shop.  You can find that HERE.
Back by popular demand and many requests from our members, the original spiral bound workbook is now available again, along with some superb new options. including a FULL COLOUR version!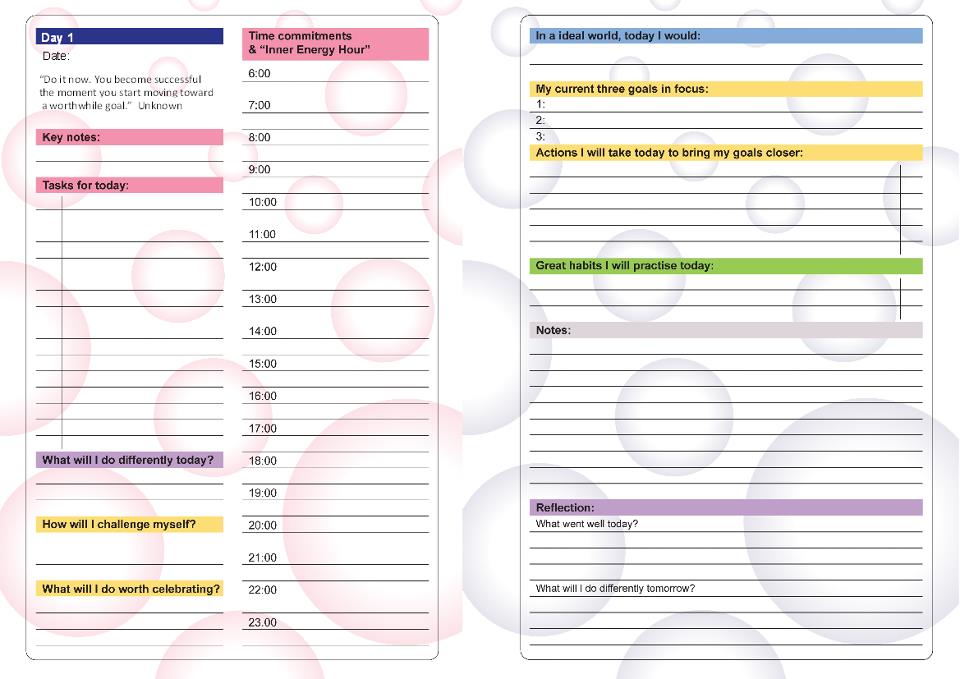 The options available to you at SPECIAL OCTOBER PREORDER PRICES are as follows:
Option 1: FizzyMilkJelly Life Energiser Workbook 90 Days B&W Undated £12
FizzyMilkJelly Life Energiser Workbook only. 90 days undated. Black & white
This is the original 90 day life energiser workbook with some additional pages included to enhance the goal setting and motivation aspects of the workbook.
With this option, not only will you receive the FULL COLOUR 90 day life energiser workbook, but you will ALSO receive a daily dose of inspiration and motivation delivered to your inbox.  This isn't just in the form of an uplifting quote … the workbook already has those on every day. These are REAL powerful snippets to help you keep moving forward and help you to alter your mindset for SUCCESS.  All that for less than 50p per day!
FizzyMilkJelly Life Energiser 90 Day 1-2-1 Coaching £227

If you are deeply serious about your success and you want to have the very best chance of getting and staying on track, but you worry that left to your own devices you may not hit the target, then this option is for you. These spaces are EXTREMELY limited – only 10 spaces are available to commence 1st November, and they will be made available following an initial consultation with each applicant for these spaces.  The consultation is, in itself, a HUGELY valuable conversation.  One that will leave you uplifted and empowered to move forward.
So, there they are. There are the options available to you!
To get in on these fabulous offers … head on over to the PREORDER PAGE and register your interest for the product / programme you wish to purchase.
Once you have completed your preorder you will be added to a mailing list from which you will receive an update as soon as the products and programmes become available on Monday 22nd October.  On that date you will be sent an invoice and payment will be required before your order is despatched and any online programme is activated.
* For those of you who took part in our Facebook promotion to receive an online programme upgrade, simply preorder your workbook following the relevant link and we will automatically add the online programme to your order before orders are processed on Monday 22nd October.
* For those of you who took part in the Facebook promotion to receive the complete package (including one-to-one coaching).  Preorder your programme here in the same way and we will notify the winner of the FREE package by email and a Facebook announcement on Monday 22nd October also.