Hooray! This week's Lily's list has arrived.
Lily's lists have been designed to give you ready made lists for all life areas.  They can be used on their own … or integrated into a home management binder or personal organiser system alongside our complete sets.
Your printable list is made available as a download which is immediately accessible once you enter your details below, so you can be quantifying and ticking away within minutes!
All of our club members have the new Lily's Lists added to their membership content automatically – that's on top of all the brilliant organiser pages, schedules, record pages, diaries and to-do lists they already have access to – AND as well as a new Pete's printable page each week too!
This week's list is:
NEWBORN NEEDS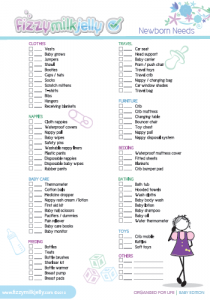 Enter your details below to get this week's list NOW: