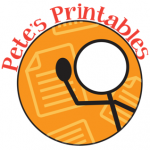 This week's printable from Pete is a love centred page with a difference – "Wishes for my little ones".
We all want the very best for our children, and often we talk about the things we want them to have and / or experience.  Take a moment today and use today's printable to list out the top 15 things you wish for your little ones, and include an extra special note in the lower section, "My biggest wish for you…".
We'd love to hear some of your thoughts too, so please share in the comments below, or over on our Facebook page.
Today is a day focused on love – let's share some thoughts about the love we have for our children.
Access your new printable by clicking on the image below, or over on the Pete's Printables page.