This week's brand new printable will get you planning to achieve your fitness goals!
So, did you enjoy Pete's printable from last week? If you missed it, you can still grab yourself a copy of Pete's Printable | Meal Planner & Shopping List HERE.
This week we're all about getting fit!
This week's page – Pete's Printable | Exercise Planner – has been designed to make sure you plan for exercise across all three areas, Cardio, Strength and Flexibility.  The new printable is now available in the shop, so head on over HERE, take a look, and grab your copy.  You can grab the new page for just 1p until Wednesday 25th Jan when we'll be releasing the next fabulously funky printable.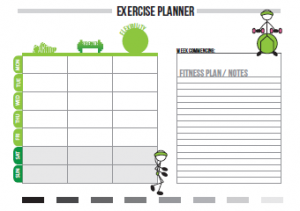 All existing members will have Pete's printables added to their membership each week automatically.  At £1.25 per printable .. that's £65 of brand new content each year, along with all the other lovelies we make available to you, just to say thanks for choosing us to help you get – and stay – organised for life!
s always, we love hearing from you, so please drop us a line by email to office@fizzymilkjelly,com with your comments, feedback and suggestions!
We'll be in touch again soon, when we'll have our next piece of exciting news to share!
Much love,
Trudy & the FizzyMilkJelly team
www.FizzyMilkJelly.com