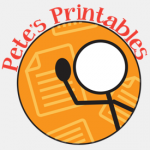 This week Pete brings you a printable to give you some long term perspective, with the Pete's Printable Goals List.
Use the time sections to set independent goals for the next year, 3 years, 10 years and lifetime … OR work backwards by starting with your lifetime goals, and break them down into milestone goals you will need to ensure you achieve along the way to keep yourself on track.
Print the sheet out and note down your goals to achieve within:
1 year
3 years
10 years
your lifetime
Keep the page somewhere that you can refer to it often, to keep those goals in focus.  Better still … laminate a copy so that you can pin it on the wall and update it as you achieve your goals, or your path changes.  (If you keep a hard copy of your original list too … it can be great to compare how things change and progress)
Your printable is made available as a download which is immediately accessible once you complete the payment process, so you could be journalling about your day within minutes!
Don't let life pass you by, without some clear direction the days, weeks, months – and even years – can just drift by.  Live purposefully! Make things happen!  Use Pete's Printable Goals List to keep you on track.
FREE UNTIL WEDNESDAY 29th FEB