The FizzyMilkJelly travel organiser includes a whole range of pages to help you plan your travels, as well as record your time away and store your treasured memories.
What's included?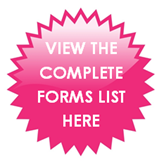 The Travel organiser includes forms such as:
Calendars
Contact records
Journal pages
Finances
Decision making
To do lists
Paper or electronic
With all the forms created as fully interactive PDFs you have the choice of how to use them:
- Electronic: Type straight into the forms on your computer and then save or print. You have the benefit of being able to use the forms over and over without having to rewrite any information
- Paper: Simply print the pages out and write onto them
Whichever way you choose to use the forms, all you will need is the free Adobe PDF Reader
A4 or A5 pages
You have the choice of being able to use the forms in either A4 or A5 page size. Click HERE to learn how to print your pages in A5.
For those who love to use and A5 organiser we stock a range of A5 folders and paper in our shop.
Sample page:
Below is a sample page from the Travel Organiser:
SAMPLE HERE
How to buy:
The FizzyMilkJelly Travel Organiser is available as part of our All Access Pass.  For details of membership options click HERE.
If you prefer to purchase a pre-printed set of pages you can buy the Travel Organiser Starter Set from our shop.