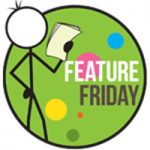 It's that time of year where we've got Christmas safely done and dusted and put to bed, and we can start looking forward to heading off away from the daily hum drum for holiday time.
Today's featured page comes from the Money & Finances Organiser and is designed specifically to track your savings for your holiday.
You can record the money you put aside (whether that's cash into a pot or held separately in a savings account) and also the money you spend out as you make bookings toward your break.
You'll have a complete record of who has contributed what towards your holiday, everything you have spent and also a running balance of funds remaining in your holiday "pot".